Our president
Louise Hurtubise is a seasoned professional with over 25 years business experience both as a manager and a consultant. Her consulting experience includes four years with the international consulting firm Peat Marwick and Partners. As well, she has held several positions in the private sector as a senior manager and vice-president in the strategic planning area. In September 1991, Louise started her own company, M.O.T. STRATEGY in Montreal.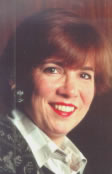 Louise Hurtubise

Bsc, MBA
Louise specializes in the area of financial training, communications and strategic planning.
She has to her credit several turnarounds of failing corporate divisions, and frequently acts as a coach and as an adviser to industry associations and member groups challenged with adapting to a new environment.
Louise's client base is extremely varied and includes, small businesses, professional practices, trade and member associations, large corporations, para-governmental and governmental agencies. She works at all levels with her clients from the employees, to the clients, to the Boards.
For the financial training portion of her work, Louise has been associated for over ten years now with the prestigious financial training and consulting organization, Business Resource Services Inc. of Seattle, Washington. She has adapted their program to the Canadian context and has presented it to a large number of companies and organizations including Hydro Quebec, Petro Canada, Xerox, governmental agencies, financial institutions, small business owners and professionals. She has also prepared and conducted training programs in the area of strategic planning and preparing for risk capital. Finally, Louise has taught strategic management at McGill.
Louise is a graduate of Loyola College in Montreal and received her MBA from the University of Western Ontario, today the Richard Ivey School of Business. She holds various certificates in finance including the Canadian Securities Institute Course.
Louise is an active member of her community, sits on a foundation and is president of the alumnae of her Alma Mater.

Why does M.O.T. Strategy specialize in financial management for business owners and managers?

Financial management is an area of challenge for many business owners and managers. Indeed, it is the cause of fatal errors in strategic business decisions in seven out of ten companies.
What does M.O.T. Strategy stand for?
Motivation, Organization and Tactics, key words in the development of any successful strategy.
Can we forget financial management?
Never, it is fundamental to all business decisions.